Learn how to save a life
Online resources to get you CPR ready
Learn how to perform CPR
Now, more than ever, it's time to learn CPR and be ready to help save a life.
As a nation, amongst everything that's going on, bystander CPR rates haven't changed. That means when we are hearing about social distancing, R rates and face masks we're still a nation that want to help. We are still a nation that care. We are still a nation that see the person. When someone needs CPR you're still helping, you're still caring and you're still making an incredible difference.
The guidance on what to do has changed slightly and we wanted to keep you up-to-date. During the current pandemic, the Resuscitation Council UK advises that you loosely place a cloth or towel over the nose and mouth of the collapsed person and to do chest compressions only. You can read more about it here or simply take the following steps! Are you a young person? Check out our page for kid researchers.
Follow the steps below to get CPR ready!
LEARN
Watch the videos below to learn about CPR
Learn with the Resuscitation Council UK
Review the steps of CPR
Feeling CPR ready yet? Let's review the steps of CPR one more time before you start practicing your skills.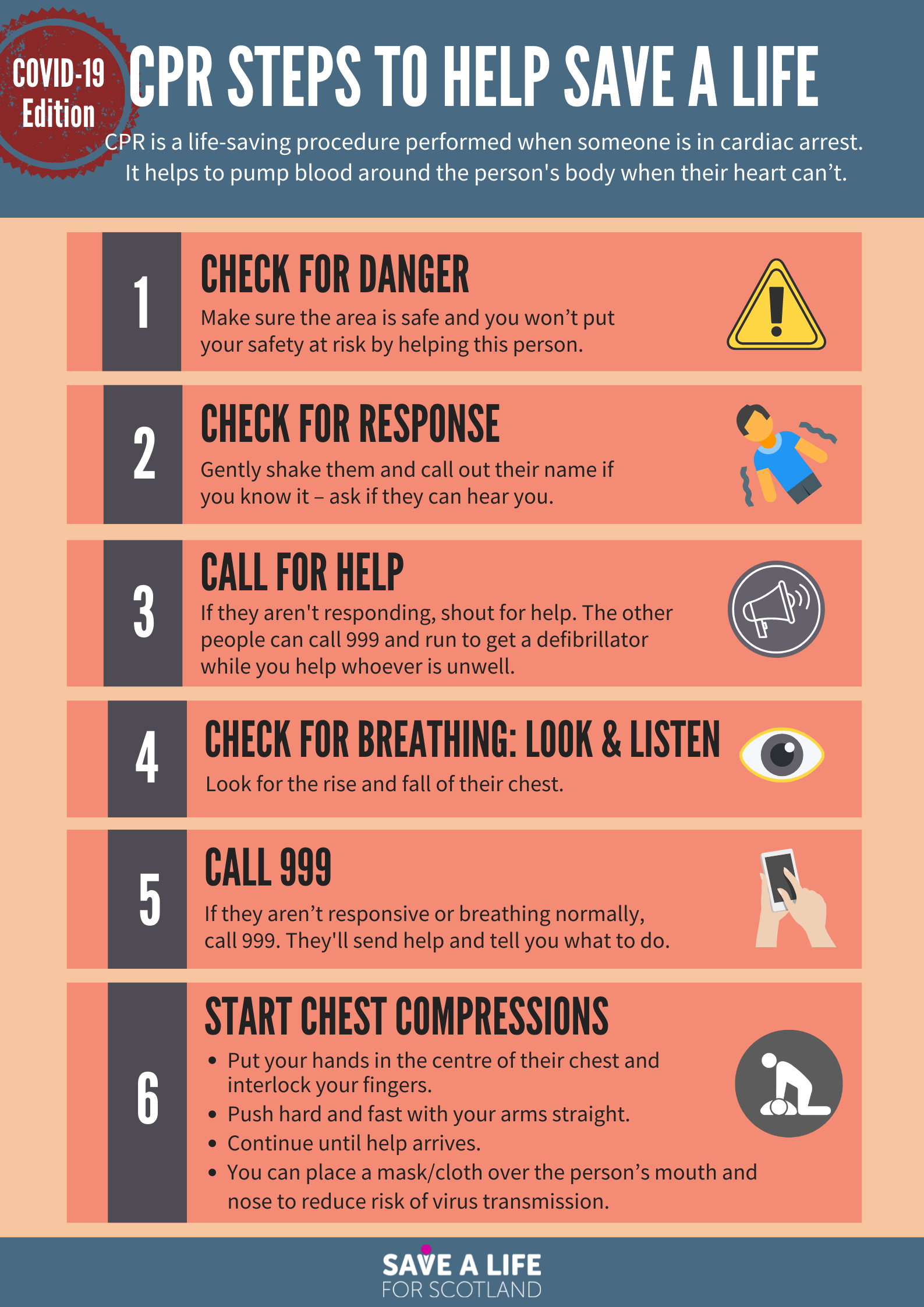 Download as plain text
PRACTICE YOUR SKILLS
Get familiar with the motions and practice your chest compressions on a cushion or pillow.
Place your hands on the centre of your cushion's 'chest' and interlock your fingers.
Keep your arms straight as you push down hard and fast. For adults in cardiac arrest, chest compressions should be about 5-6 cm deep.
Let your hands come back up between compressions but do not take your hands off the chest.
Do this at a rate of 100 to 120 chest compressions per minute – about 2 per second. Get inspired by this Spotify playlist to find your CPR anthem!
Check out Gareth below who has placed a pillow inside one of our CPR bags to practice chest compressions on. His friend is watching carefully before he gives it a go himself. Good technique 👏👏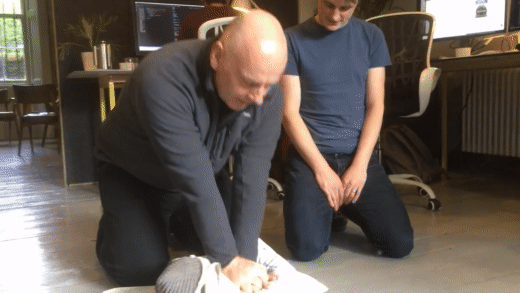 PLEDGE YOUR COMMITMENT
Join the 640,790 people who've learnt how to save a life.
Let us know what steps you will take to help your friends and family stay CPR ready.
GET A FREE BAG
Interested in having your own Save a Life for Scotland CPR tote bag?
Stuff a pillow, cushion or some clothes into the CPR bag to practice your chest compressions. Then use the bag to share your skills with others in your family or bubble. Don't forget to send us a video or tag us on social media (@SaveaLifeScot) to show us your CPR skills!
To apply for a free bag, please send an email to hello@savealife.scot with your name and mailing address. Please note we have a limited supply of bags so apply today before we run out!